The new EZ Lift Eyebolt was developed in response to utility customers' requests for an innovative way to lower their costs in the field and to reduce liability exposures that are associated with the lifting practices and devices currently in use.  The unique bolt lifts the unit by the beam.  By providing a single point for lift, the EZ Lift Eyebolt eliminates the need for slings and spreader bars, permits easier lifts in tight installations, and enables safer and faster installation of overhead transformers.
RealLineman.com recently featured PPI's EZ Lift Eyebolt and its benefits in a training video for lineman.  Please view this video below.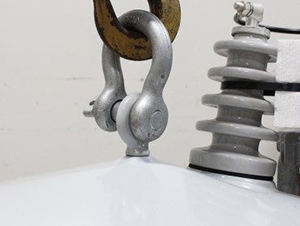 Advantages
Safety
Application:  1000 lbs. and below.
Exceeds IEEE safety rating of 5 to 1.
Creates and safer and quicker connection point.
Increases vertical clearance between lift points and high voltage lines.
Save Installation Time and Money
Allows lifting of unit with the pallet attached.
Makes easier rotating unit while suspended.
Reduces lifting strap usage.
No touching of straps against HV bushings.
Balancing straps no longer needed.