Power Partners' T-T, or T-connected, overhead distribution transformers can be used for most three-phase applications up to 500 kVA. T-connected transformers consist of two single-phase core/coil assemblies. This type of connection is also referred to as a Scott-T connection.
For three-phase applications in which large motors are the load and these motors are frequently started, Triplex designed three-phase transformers are required rather than T-T transformers. Oil field pumping loads and some irrigation pumping loads should use only the Triplex designs as well. ISO 9001: 2008 Certified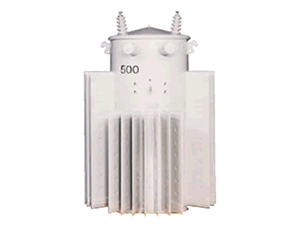 Standard Features
Wound core with step-lap joints for increased efficiency and lower noise levels.
Progressively wound coils with adhesive resins on insulating paper or conductors for increased short circuit strength, efficiency, and thermal strength.
CSP protection package available as an option for increased protection against surge currents, short circuits, and overloads:
Primary protective links
Surge arresters
Secondary circuit breaker
Secondary breaker operating handle with emergency overload reset and overload signal light
Self-venting and resealing cover that eliminates the need for an auxiliary pressure-relief device and offers increased safety through higher tank withstand.
Durable, corrosion-resistant paint finish.
Cover has 15 kV dielectric insulation and increased resistance to corrosion. The cover is sloped 15, preventing water from collecting and thereby reducing the chances of corrosion and leaking.
Lighter weight, lower cost, and cleaner installations than conventional three-phase design.
Oil fill-plug
Cover ground-strap
Tank ground-pad
Laser-etched, anodized, aluminum nameplate with bar-coded serial number
Durable, corrosive-resistant paint finish
The following additional features are all standard on self-protected type CSP units (CSP protection package consists of four components that work together to provide complete, self-contained protection against surge currents, short circuits, and overloads):
Primary protective link
Surge arrester
Secondary circuit breaker
Secondary breaker operating handle with emergency overload reset
Overload signal light if desired