The exclusive center-bolt cover design is standard on all Power Partners overhead transformers, 5-1000 kVA single phase and 30-500 kVA three phase. The cover assembly is unique in both operation and design. The unit offers an extraordinary high withstand capability and an extra margin of safety. ISO 9001: 2008 Certified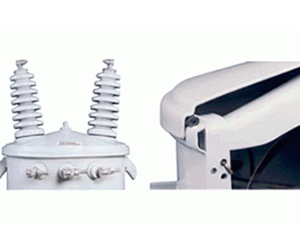 Standard Features
Center-bolt cover, cover beam and beam support lug system provide:
Self-venting and resealing which meets ANSI specifications eliminating the need for an auxiliary pressure relief device.
Tank withstand capability in excess of the requirements of IEEE C57.12.20-2005.
Increased tank withstand capability and automatic pressure relief during cover removal result in increased safety.
Electrostatically-applied epoxy coating is a minimum of 13 mils, providing an average of 15 kV dielectric strength to provide extra insulation and protection from corrosion.
The 15 slope of cover prevents moisture from collecting and increases resistance to corrosion and leaking.
Continuous hollow nitrile gasket, raised and flat bushing embossments, undercut gasket seats on bushings, and copper-encased cover bolt gasket provide increased resistance to leaks and breathing.
Center-bolt cover provides easy cover removal compared to chime ring design, resulting in lower maintenance cost.
Advantages
Static and dynamic pressure relief provided by unique venting and resealing capability.
Increased safety provided through higher tank withstand capability and automatic pressure venting during cover removal.
No auxiliary pressure relief device is required.
Extra insulation provided by thick polyester coating.
Increased resistance to corrosion provided by sloped cover and thick coating.
Increased resistance to leaks and breathing provided by unique gasketing system.
Simplified maintenance provided by single cover bolt.
Standard Compliance
Pressure Venting and Resealing
The Power Partners self-venting cover design meets the pressure venting and resealing requirements of ANSI C57.12.20-2005, paragraph 7.2.5.2.
"A cover assembly designed for relief of excessive pressure shall remain effectively sealed for overloads and external secondary short circuits of the magnitude and duration allowed by industry standards and loading guides, but shall relieve pressure at a minimum of 8 lbf/in2, gage (55.2 kPa) if designed to reseal; or at a minimum of 20 lbf/in2, gage (138 kPa) if designed for pressure relief without resealing. Such operation shall occur before other components of the tank are ruptured or displaced, and the cover shall remain in position. Manual means of venting the tank before removal of cover shall be provided."
No auxiliary pressure relief device is required on Power Partners overhead distribution transformers. The flow rate of the Power Partners center-bolt cover after venting is significantly higher than that of auxiliary pressure relief devices resulting in increased safety and higher tank withstand capability.
Tank Withstand
The Power Partners overhead tank and cover design provide tank withstand capability far in excess of the requirements of IEEE C57.12.20-2005 Section 9
"Test No. 1 – An Arcing Fault in an Enclosure
First Fault – A simulated internal fault shall be provided. This fault shall consist of a 1-inch arc gap mounted horizontally and located 1 inch above the core clamps. This gap shall be bridged initially by a 0.0605-inch diameter or smaller copper wire. The gap shall be connected between the high-voltage terminals or from one high-voltage terminal to ground. The mounting blocks or terminals of the gap shall consist of copper-bearing material and shall have flat surfaces from 0.25 to 0.75 inch in diameter or in width. These gaps shall be designed to maintain this 1-inch arc gap for the duration of the fault. The transformer coil shall not be electrically connected in this test circuit. The power source shall be 7.2 kV and adjusted to supply a current of 8000 rms symmetrical amperes."
As this arcing fault will not be self-clearing, back-up protection shall be provided to clear the circuit in approximatel to 1 cycle which is a typical clearing time for an external distribution fuse cutout. A cutout with up to a 25K fuse link shall be used to provide back-up protection. A current-limiting device, such as a fuse, cannot be included in the backup protection.
Second Fault – For the second fault, the fault described in item 1 shall be repeated.
The Power Partners overhead tank and cover system can withstand a 20,000 Ampere one-inch arc on the specified test.